Marin City Intergenerational Garden Preps for Summer Recreation Program
In preparation for the Marin City Summer Rec. Program, Mt. Tamalpais High School student volunteers helped clear last year's container gardens and compiled the used soil to be fertilized for new planting. The Intergenerational Garden Project was only one of the volunteer service projects the students tackled to help support the Marin City Community Services District (CSD). We applaud Jamie C. Farr, the Mt. Tamalpais High School Principal, Luc Chamberlin, Teacher-Volunteer Organizer and all the enthusiastic student volunteers!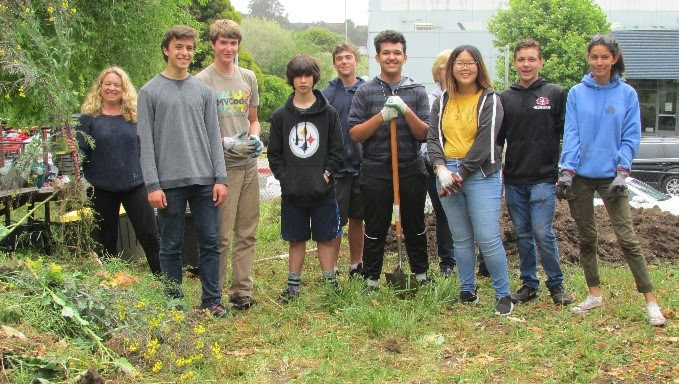 For the past 4 years, the garden program has partnered with the Marin City CSD's summer recreation program to provide garden nutrition education classes to over 150 youth each summer. Classroom garden nutrition education is coupled with hands-on gardening. Students select their choice of herb, vegetables and flowers to plant in their containers and learn how to care for their plants. Throughout the summer, students harvest their bounty and learn how to prepare healthy meals to share with their teachers and classmates.
This year, with the intergenerational garden program being developed, both youth and seniors will participate in the container and greenhouse gardening program. There are also plans to host a Community Fall Harvest Farm Stand.
For more information about this project, contact Sharon Turner, Project Manager at 415-332-1441 ext. 16 or sturner@marincitydistrict.org
San Rafael City School District Orchard – A Memorable Community Event
Sanzuma finished installing the orchard at San Pedro Elementary School in San Rafael. It was a huge success. Families from San Pedro Elementary, the surrounding community and even the East Bay, came to our orchard planting day and planted a tree. After planting the trees, families attached a permanent tag on a fruit tree with their surname on it.
Before the day ended, everyone gathered for a family style meal. It was a memorable community event. Twenty-six fruit trees were planted. Another four were planted temporarily and will be installed this fall.
The orchard will be officially donated to the San Rafael School District at the end of May. Once the trees start to produce fruit, this bounty will be added to the San Rafael City Schools' Meal Program for kids to enjoy throughout the school district in the "School farm to Cafeteria" program.
Check out our orchard planting video >
Empowering kids to make healthy choices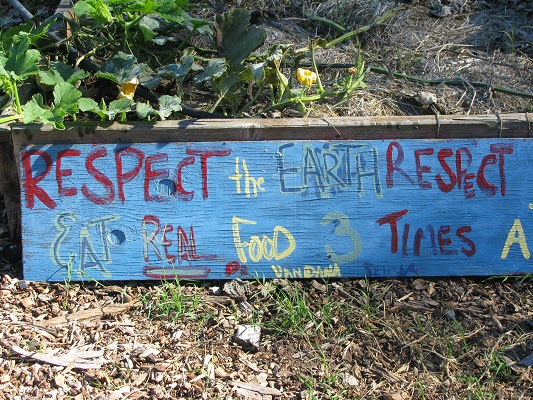 The San Pedro Elementary School garden is a learning laboratory for youth. Sanzuma has been providing garden nutrition education at the site since the garden's inception 3 years ago. Each year, students spend time in the garden learning about planting, harvesting, cooking and tasting their bounty. Families are also encouraged to participate in the garden. These activities are coupled with nutrition education programs where youth and their families learn about the importance of eating healthy, balanced meals and the importance of drinking water.
If you have any questions or would like to know more or support Sanzuma's "Farm to Cafeteria" program, please email Executive Director Lori Davis at lori@sanzuma.org.
Marin City Job Fair Planning Group – Update
We have exciting news! Members of the Built Environment Taskforce have chosen to hold the Marin City Job Fair on Tuesday, September 10, 2019. Mark your calendars! More detailed information will be shared soon. If you would like to be involved in this effort, contact Elaini Negussie at enegussie@marincounty.org